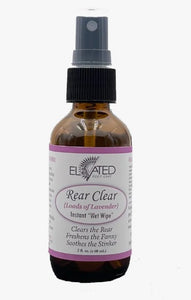 Elevated! Rear Clear - Wipe Spray - Lavender
Rear clear is designed for the "rear" and is a natural and non-polluting alternative to wet wipes. this is everyone's #2 life saver. Spray regular toilet paper or cloth wipe with rear clear for a more natural, eco-friendly, alternative to wet wipes. Not only is elevated rear clear safe for plumbing systems – it is good for your behind. it keeps the 'rear clear', while it freshens, moisturizes, soothes, and even helps clear the (not so pleasant) #2 aromas.
Rear clear is perfect for travel, office and home use. Great for boaters and rv users with rv toilet tissue. A must have for campers and travelers so you can keep clean and fresh Ingredients: witch hazel distillate (non-alcohol), organic extra virgin olive oil, herbal blend, pure, therapeutic essential oil blend (blend depends on scent), vitamin e.
Directions: shake well & give a couple sprays on toilet paper or cloth wipe. Gently glide rear clear wipe across rear & enjoy a freshening, soothing pampering, & clean experience.